As you may have noticed, we have been (and still are) very busy those days: travelling in Norway as usually ... and working as well ... Of course there are plenty of things to write about: our Easter trip to Lofoten, nice cabin trips, our last ski trips, and our long week-end to the sunny South Norway ... but we need time!
Anyway, there is something awesome happening those days in Norway: NRK (the national broadcasting channel) and Hurtigruten are filming the whole trip from Bergen (south) to Kirkenes (north) along the coast. It is about 130 hours, and you can follow it on live at the (Norwegian) TV or online: http://www.nrk.no/hurtigruten/. Right now, they are living Trondheim's fjord :-)
It ends on wednesday, so you have plenty of time to enjoy !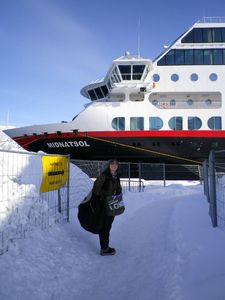 Our starting point in Tromso, 3 month ago ...